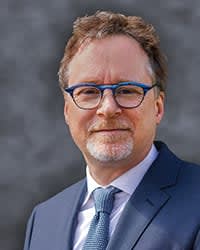 Strength in partnerships
On July 1, 28 CMH-employed physicians, NPs, and PAs joined the emergency, cardiology and general surgery providers in becoming OHSU-employed. Since then, most new providers, including those in our radiology department, have joined CMH as OHSU employees, bringing our total to more than 60.
Partnering with OHSU has already helped with our recruiting efforts and affords our providers access to the professional support, quality and educational offerings that goes along with being a part of a large, academic institution. At the same time, they still enjoy the autonomy to practice rural medicine in a way that makes sense for our patients and our community.
Continuing care in a pandemic
In many ways, in the last year, we faced the same challenges as in 2020.
We started the year at the tail end of one COVID surge, saw the Delta variant tear through the state in early fall, started to emerge from Delta a couple of months later, only to end the year girding ourselves for Omicron. It's hard to remember the last time we could collectively take a breath (especially without our masks).
Through all of this, our providers have risen to the challenge time after time. We are routinely caring for sicker patients in greater numbers than ever before. COVID has demanded that we all raise our game, and we have continually met that demand. While it has been difficult, it has also been exciting to see how much more we are able to safely keep our patients in the community for their care. COVID has galvanized all of us — it has made us better providers, and ultimately, will allow us to serve our community in ways we never would have previously imagined.
But it will also be nice when we can finally take that breath.