CMH announces 2021 Spirit of Care Award winners
Hospital news
|
Friday, June 18, 2021
Caregiver and provider exemplify person-centered care at CMH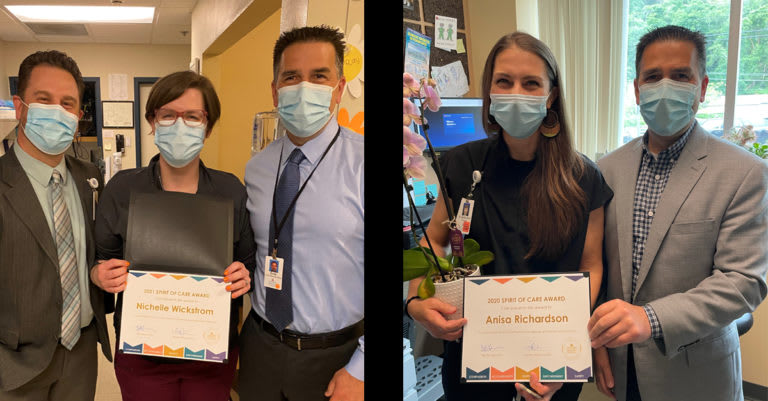 Nicki Wickstrom, Imaging supervisor, (left) and Dr. Anisa Richardson, Primary Care physician, (right), were awarded the 2021 Spirit of Care Awards for exemplifying person-centered care at CMH.
CMH is pleased to announce Imaging supervisor Nicki Wickstrom and Primary Care physician Dr. Anisa Richardson as the winners of the 2021 Spirit of Care Awards.
"Many things took a pause during the pandemic, but one thing that has remained a staple at CMH is person-centered care," says Kristen Moss, Patient Experience manager. "This year's Spirit of Care Awards received many nominations, and the hospital has received countless patient comments about caregivers who care. This shows us that compassion and respect are not contingent on the risk category of our state during a pandemic."
Wickstrom has worked at CMH since December 2015 and was promoted to Imaging supervisor in February 2021. In the nomination from a fellow caregiver, they stated:
"Nicki is always willing to jump in to assist everyone. She helps with difficult patients and is quickly able to de-escalate a situation. She always goes above and beyond to provide excellent, person-centered care at CMH. Nicki has maintained a positive attitude throughout the pandemic and always strives to encourage her team. She is there to build everyone up and has helped us all tremendously!"
Dr. Anisa Richardson joined CMH Primary Care in September 2017, working first in Warrenton and then in Astoria. She is a highly sought after provider, often receiving rave comments from patients. A recent comment included in her nomination stated:
"She let me sit and cry in her office. I knew she needed to move on to other duties, but she just let me sit and get everything out. I have never felt so heard and so understood; it was the start to my recovery. At our next appointment, she taught my daughter all about healthy poop. I have laughed and I have cried in her office. We love her."
Spirit of Care Award winners are honored with a display on the wall near the hospital cafeteria. They are chosen annually from nominations based on the care they consistently show at CMH.