CMH Health Compass wins 2021 Gold Hermes Creative Award
Hospital news
|
Monday, August 9, 2021
Spring 2020 edition featuring Family Birthing Center honored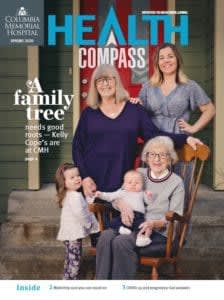 Astoria, ORE. — CMH was honored to be recognized with a 2021 Gold Hermes Creative Award for overall publication for the Spring 2020 Health Compass newsletter.
The eight-page publication, published and designed by Coffey Communications, featured stories and information on the CMH Family Birthing Center and related services, such as Lactation and support for infant loss. It was compiled and written by Sarah Bello, marketing and communications coordinator, and included a story about Med/Surg manager Kelly Cope's family, who have received care at CMH for generations.
"The 2020 Spring Compass was a special issue because it highlighted the person-centered care women and babies receive from our Family Birthing Center," says Nancee Long, director of communications. "Receiving an award for that specific edition emphasizes the excellent work done in supporting families across hospital departments, from the Women's Center to the Family Birthing Center to Marketing."
There were a total of 230,000+ entries from 125+ countries that submitted materials for a Hermes Creative Award. The competition is one of the oldest and largest international creative contests in the world, sponsored by the Association of Marketing and Communication Professionals. It recognizes outstanding work in the industry while promoting the philanthropic nature of marketing and communications professionals.
All work is evaluated solely on its own quality, creativity and resourcefulness. The award helps demonstrate the effectiveness of CMH's Marketing Department and its ability to compete with organizations of all sizes and budgets.
The full Spring 2020 Health Compass can be read here. A list of all Platinum and Gold Award winners can be found on the Hermes Creative Awards website at hermesawards.com.