CMH named 2021 Most Wired Award recipient
Hospital news
|
Friday, October 8, 2021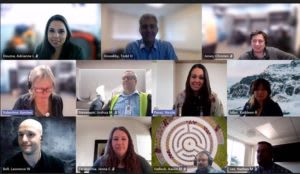 Some of the CMH IT caregivers, photographed on IT Professionals Day.
Hospital has been recognized for the ninth time
ASTORIA, Ore. — For the ninth time, CMH is the recipient of an annual award that recognizes excellence in healthcare information technology (IT).
Each year, CMH participates in the College of Health Information Management Executives' Digital Health Most Wired program survey. The survey recognizes organizations that demonstrate excellence in IT implementation and innovation. The survey also serves as a benchmarking tool to help participants plan and develop future IT projects.
CMH was named a Most Wired organization and awarded Level 7 certification. This level demonstrates that CMH deploys technologies and strategies to help achieve more meaningful clinical and efficiency outcomes. It also indicates that CMH is implementing more advanced technologies that expand access to care.
"CMH's IT caregivers play an integral part in serving patients and helping the hospital function 24/7," says CMH Director of IT Nicole Perez. "Kudos to our IT caregivers for continually striving for excellence. Congratulations for winning this award the ninth time."
Hospitals and healthcare systems have been surveyed on their adoption, implementation and use of information technology since 1999. A total of 36,674 organizations participated in the 2021 survey.
The survey specifically reviewed participants on their acute, ambulatory, long-term and international acute care. Participants received benchmark reports, which help healthcare organizations elevate patient care and optimally use technology.
For more information on the program, visit chimecentral.org/chime-most-wired-2/.