CMH Primary Care provider featured in national campaign
Hospital news
|
Sunday, September 19, 2021
Dr. Elizabeth Erikson, physician at Warrenton Primary Care, shares recruitment story
ASTORIA, Ore. — CMH is thrilled to share that Dr. Elizabeth Erikson, physician at CMH-OHSU Health Primary Care Clinic in Warrenton, is featured in the "First. Next. Forever." national campaign for 3RNET, a resource for health professionals seeking careers in rural and underserved communities.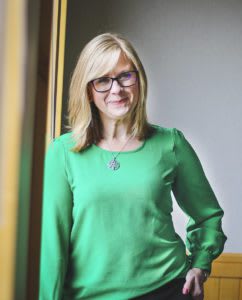 Erikson is highlighted alongside Amanda Judd, who worked as CMH's provider recruiter for five years before moving to her husband's next Coast Guard duty station earlier this summer. Judd helped bring Erikson to CMH in 2018 when she saw she would be a good fit for the organization's Planetree, person-centered culture.
Amanda Judd was the provider recruiter at CMH who helped connect Dr. Elizabeth Erikson to her job opportunity in Warrenton. Judd worked for CMH for five years before moving with her family to their next Coast Guard duty station.
"We're so fortunate that Dr. Erikson believed CMH had everything she was looking for," Judd says. "I can say with confidence that she is making a positive difference in the community. She's exactly who we had hoped for."
3RNET includes a digital search engine for professionals to search for jobs in rural and underserved areas. Its national network of coordinators cover all 50 states and represent organizations that serve the nation's health care safety net. Stacee Reed, program manager for recruitment and retention with the Oregon Office of Rural Health, is the state's 3RNET Network Coordinator who worked with Judd to connect Erikson to CMH.
Erikson grew up in Montana and wanted to be part of an organization that aligned with her goals for improving access to health care for underserved populations. She also looked for a place that would support her efforts focused on prevention.
Erikson loves the outdoors and wanted to find a position where she could enjoy nature, too. After completing her residency with The Family Medicine Residency of Western Montana, she worked with Judd and Reed to join CMH. Now, she cares for the community in Warrenton and her growing brood of chickens, a cow and her family on their country property.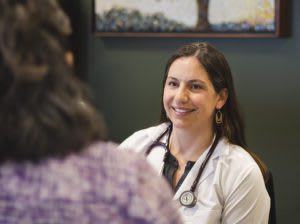 "I found my first practice and a beautiful home," Erikson says.
Dr. Erikson speaks with a medical assistant at the CMH-OHSU Health Primary Care Clinic in Warrenton.
3RNET's "First. Next. Forever." campaign tells the stories of health care professionals who have found their first, next or forever career opportunity through using its online resources. Photos for the campaign's first iteration featuring Erikson were taken by Kristen Moss, manager of patient experience at CMH, and Sarah Bello, CMH marketing and communications coordinator.
View the campaign at 3rnet.org/first-next-forever. Contact Kristine Morin, director of communications and marketing for 3RNET, for more information on "First. Next. Forever.," at morin@3rnet.org, or visit 3RNET.org.