CMH welcomes new Orthopedic provider
Hospital news
|
Friday, February 3, 2023
Contact: Sarah Bello
Stephanie Parmley, NP-C, joins clinic
CMH is pleased to welcome Stephanie Parmley, NP-C, to the CMH-OHSU Health Orthopedic Clinic.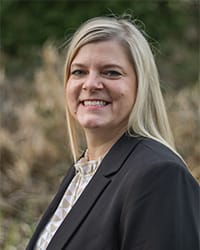 Stephanie joined CMH in January 2022 as a hospitalist. She began working in the Orthopedic Clinic in late January.
Prior to joining CMH, Stephanie worked at Peace Health Center-St. Johns in Longview, Washington, as an ambulatory care nurse. She specialized in gastrointestinal, radiology and cardiac catheterization nursing.
During her career, Stephanie has also taught nursing at Lower Columbia College and worked as a nurse for CMH.
Stephanie earned a master's degree in nursing from Maryville University in St. Louis, Missouri. She earned a bachelor's degree in nursing from Western Governors University.
When she isn't at work, Stephanie enjoys hiking, camping, playing sports and spending time with her family.