Happy retirement, Dr. Ram!
Hospital news
|
Thursday, March 18, 2021
Beloved pediatrician retires after more than 16 years at CMH
By Sarah Bello, Marketing & Communications Coordinator
Nearly 13 years after her son, Tristan, was born, Kirsten Norgaard still gets emotional talking about how CMH pediatrician Dr. Ramchander "Dr. Ram" Madhavarapu saved his life.
Something was off with Tristan during his first week after birth. He constantly vomited, was severely jaundiced and lost weight. Norgaard and her husband, Thor, thought the infant might be allergic to breastmilk or medication given during labor. While they tried to pinpoint the issue, she brought the baby in to see Dr. Ram every day for his first seven days.
Dr. Ram and a patient.
One final test result could show that Tristan had congenital adrenal hyperplasia, but the information wasn't available until Monday — and it was Friday. Tristan was already severely dehydrated.
"We were in his office, and Dr. Ram said, 'We don't have time to wait,'" Norgaard remembers. "He canceled everything for the rest of the day, and we walked over to the hospital. He took Tristan's labs himself and confirmed his electrolytes were way out of whack. We went to the ER and he started saving his life right there.
"I'll never forget how he just swooped in and took him in his arms. It was so scary, but he just took charge."
Dr. Ram stabilized the week-old infant and had Doernbecher Children's Hospital's PANDA team of specialized pediatric caregivers transport Tristan to Portland for a week. Norgaard says without Dr. Ram's knowledge and quick actions, her son would have died. Later, he told her he had seen Tristan's disorder only once before, but he knew he could not wait for a second test to confirm its presence.
"Dr. Ram went above and beyond," Norgaard says. "Not just for me but for so many other patients. We are so lucky to have had him in our community."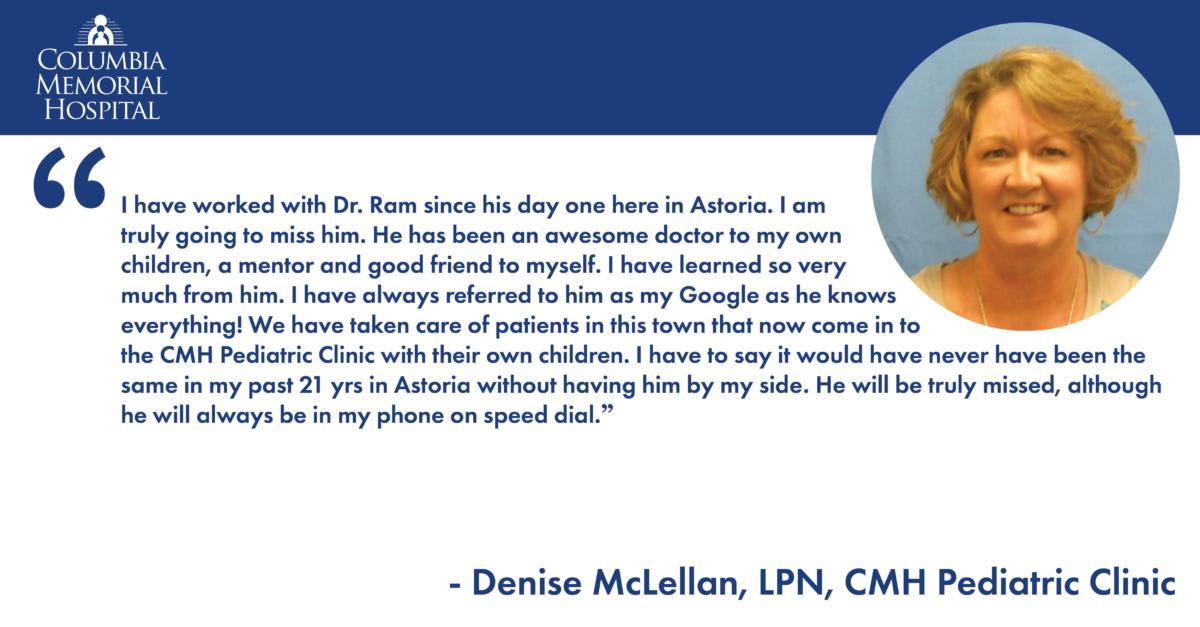 After practicing at CMH for more than 16 years, Dr. Ram is retiring from the Pediatric Clinic on March 31 and will be greatly missed.
Journey to Astoria
Dr. Ram with pediatric colleagues, Dr. Kelly Peekstok and Misha Caldwell, PNP.
Dr. Ram's calling as a pediatrician began when he visited his own doctor at four or five years old in India. That doctor left a great impression on him, and ultimately, he chose a similar career in medicine, attending medical school in his home country.
In 1991, he moved to Ireland and England to complete higher training in neonatology, his specialty and passion. His life changed when he had two back-to-back heart attacks, and he decided to switch to a less stressful career as a pediatric generalist, relocating to New Jersey in 1996 for a general pediatrics residency.
After spending a few years in a group practice and as a hospitalist, he wanted to move to a smaller community. A recruiter directed him to Astoria, where he has been since 2004.
"The reason I agreed to come here is that the weather is the same as Ireland and England," Dr. Ram says. "It's just the place and the people I needed to see. I wanted to slow down, but I also wanted to make a difference. The small community is wonderful, and you can make a difference here."
Norgaard would agree that he has done just that, as would Jeanette Schacher, director of CMH Medical Group, who has worked with him since 2016. Dr. Ram is special, she says, and his background in neonatal medicine has been invaluable.
"He has been the provider for people who he had as children when he first got here," Schacher says. "He can do it all. He can take care of the sickest infant with the most confidence in the world."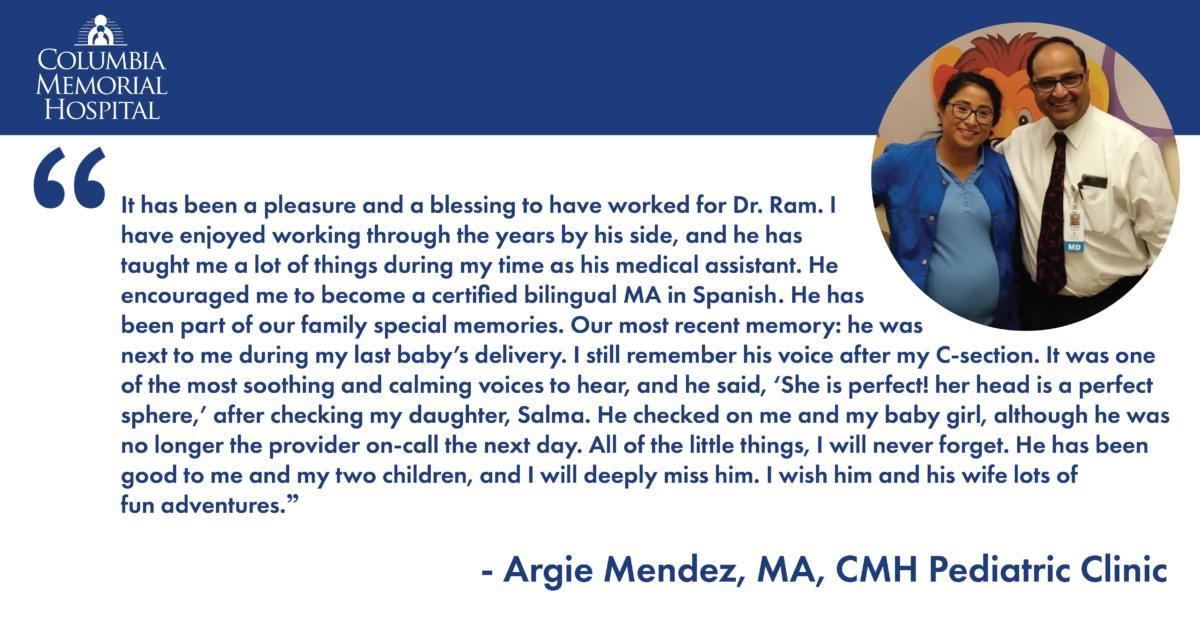 Off the top of his head, Dr. Ram says he can't think of specific memories of children he's helped. With prodding, he recalls a few: a premature baby born not breathing, an infant with an undiscovered tumor in her abdomen, another infant with meningitis, Tristan, and a child diagnosed with cystic fibrosis.
He discusses the cases nonchalantly, but Norgaard says his humility and ability to know when to call someone else for help made him a trusted provider.
"There was one time when Tristan had to have surgery and had complications afterward," she explains. "He said to take him to Portland. I know that if he could've fixed the situation, he would have. Knowing that someone else was going to be able to provide better care than he could in that moment, that's such a valuable trait, especially in the medical field. He is very humble and doesn't think of himself in the way that his patients see him."
As the sole pediatric provider on the North coast for five years, he spent many days in a row on call. Dr. Ram says he struggled at times but pushed himself to be available. Eventually, he knew his practice needed to grow with other providers.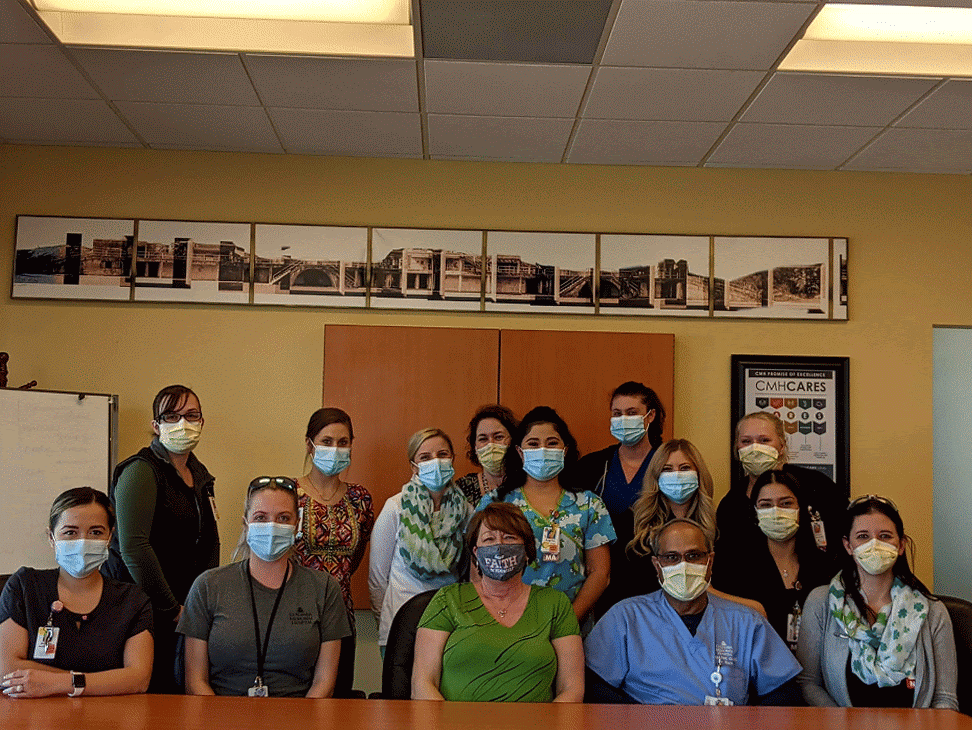 Dr. Ram and his colleagues on the CMH Pediatric Clinic team.
In August 2009, the CMH Pediatric Clinic opened, offering care from Dr. Ram and two other newly recruited pediatricians. In the years since, his value for all members of the team has been obvious, Schacher says.
"His priority is making sure that the team is a really cohesive group. He is highly intelligent, and that can be intimidating to work with at first, but because he is so collaborative, he would be the first one to be concerned with how the front desk is working with the back office," Schacher says. "He was always making sure the team got along and had a good flow."
Moving on to Retirement
Eleven years have passed, and when he retires, five providers — four who rotate between Astoria and Seaside, and one who works full-time in Seaside — will continue seeing patients.
"Now, we are very well-placed with highly trained providers," Dr. Ram says. "I can feel very proud, happy and comfortable leaving my colleagues where I used to be alone. We also grew last year by starting another clinic in Seaside, extending services to South County. Those are all comforting things to me."
His colleagues say it will be surreal to not see him at work, and they will miss his advice and knowledge.
"With all of the collaboration, and with the help of our administration, particularly Erik (Thorsen, CEO) we were able to do everything I visualized for pediatric services for the community," Dr. Ram says.
Thorsen became CEO right around the time the Pediatric Clinic opened. He says Dr. Ram is handing his practice off to fantastic providers, but seeing him retire is bittersweet.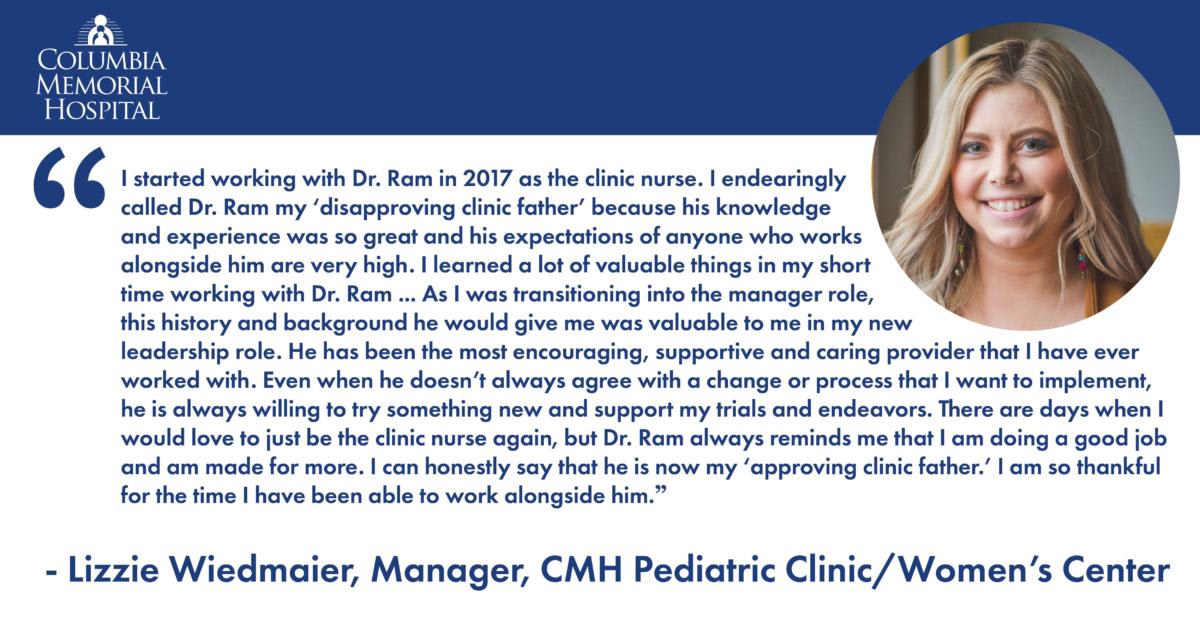 "Like many of you, Dr. Ram cared for my children. He was there the day my daughter was born and watched her and my son grow up and leave the practice. My family will always be grateful to Dr. Ram for his care and kindness," Thorsen says. "Dr. Ram has done so much for CMH and our community. He has been committed, hardworking and dedicated to ensuring the success of CMH, sometimes spending weeks on-call and serving on virtually every professional staff committee. I will miss seeing him at CMH, but I couldn't be happier to help celebrate his retirement. It has been an honor to know him and have him in our community."
Dr. Ram plans to stay in the area but will spend lots of time traveling with his wife. He has a bucket list to cross off and will go anywhere, he says — just not somewhere he's already been. He expects he'll continue to run into patients at Fred Meyer and Costco and looks forward to their hugs.