Cardiac Rehabilitation
If you have recently had a heart problem, the cardiac rehabilitation team at Columbia Memorial Hospital can give you the support and expertise you need to safely return to an active, heart-healthy lifestyle.
Cardiac rehabilitation is designed to improve the health of your heart and the quality of your life. At CMH, our certified program includes monitored exercise, nutritional and lifestyle education, and support.
Who might benefit from cardiac rehab?
You might benefit from cardiac rehab if you've had a heart problem, such a heart attack, heart bypass or valve surgery, a heart transplant, or a diagnosis of heart failure or stable angina.
Cardiac rehab has many benefits. For instance, it can:
Help you feel stronger and increase your energy. After a heart event or surgery, you may have experienced a decline in fitness. Cardiac rehab can safely get your heart back in shape and improve your ability to exercise and take part in activities of daily life.
Reduce your risk of further heart problems, like heart attacks.
Help you create a lifetime habit of exercising regularly and living a heart-healthy life.
Give you motivation to move forward to better health.
What to expect in cardiac rehab
At CMH, we provide phase II outpatient cardiac rehab, which is a 12-week program that is generally covered by medical insurance.
CMH's cardiac rehab program is overseen by a cardiologist. Your rehab plan will be created with your specific needs in mind.
Your cardiac rehab program will include:
Exercise. Most people attend hour-long exercise sessions two to three times a week. An exercise physiologist with graduate-level training and registered nurses who specialize in cardiac rehab will supervise your exercise. The team will monitor your heart and vital signs with state-of-the art equipment while you exercise. Your exercise level will gradually progress as your fitness and recovery improves.
Heart-healthy education. You will receive information and advice to help you make changes that are good for your heart, such as adopting a diet that's low in artery-clogging fats, managing your weight, lowering your blood pressure and quitting smoking.
Stress relief and support. The cardiac program provides stress-reduction counseling that will help you manage the emotional impact of heart disease. You will receive support from your cardiac rehab team and your fellow participants. Participants in our program have often shared similar experiences. They have fun and cheer each other on.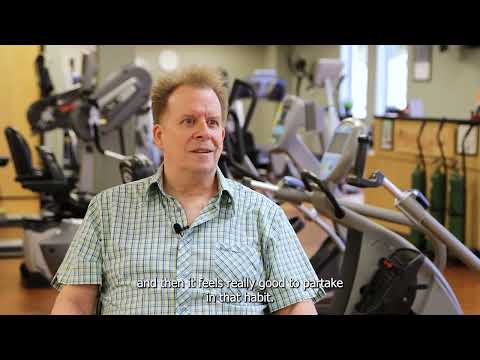 How to get started in cardiac rehab
You will need a referral from a physician to participate in cardiac rehab. If you've had a heart problem, ask your primary care provider or your cardiologist if cardiac rehab is right for you.
If you have any questions about the referral process or the cardiac rehab program, please call 503.338.4052.