Pulmonology and Respiratory Therapy
Living with a breathing problem can be difficult and stressful. At the CMH-OHSU Health Pulmonology Clinic, we offer specialized pulmonology and respiratory therapy services that can help you breathe better and live your life to the fullest.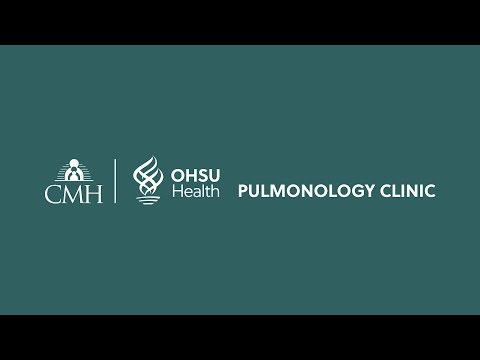 Why choose our pulmonary clinic
CMH provides a higher level of care for lung conditions than is typically available at a regular doctor's office. Our team is led by a board-certified pulmonologist. This means you don't have to travel to a larger city to receive the specialized care your lungs deserve.
We provide diagnosis, treatment and ongoing medical care for many breathing problems. For example, we:
Manage lung diseases such as asthma, COPD, work-related lung disease, pulmonary fibrosis, lung infections and lung cancer. Lung cancer treatments are available through the CMH-OHSU Knight Cancer Collaborative.
Diagnose the cause of problems like shortness of breath and coughing.
Diagnose and manage sleep problems, such as sleep apnea, which causes brief breathing pauses. If you may be at risk for sleep apnea, our specialist may refer you for a sleep study as well as provide ongoing care and treatment.
Refer you to other services, such as our pulmonary rehabilitation program, which improves the lives of people with breathing problems.
Provide you with the knowledge and tools you need to understand your respiratory problem and what you can do to breathe easier.
Respiratory therapy and lung function tests
Lung function tests (also known as pulmonary function tests) can help show if you have a lung disease, how advanced the disease is, and how well treatments are working.
This testing is provided by our highly trained respiratory therapy team in the CMH-OHSU Health Cardiology Clinic.
CMH's respiratory therapists work on an outpatient basis, as well as provide care to those patients in the Emergency Department and all hospital units 24 hours a day, seven days a week. All therapists are certified in Advanced Cardiac Life Support, Pediatric Advanced Life Support and Neonatal Resuscitation.
In addition to lung function tests, the respiratory therapy team also provides cardiac testing services.
Fax a referral to respiratory therapy at 503.338.7539. Call 503.338.7513 to schedule a pulmonary function test.
Tobacco cessation services
Do you need help quitting any form of tobacco? Our certified tobacco treatment specialist can help.
Our specialist works with your doctor to prescribe medications and provide support and counseling that can boost your chances of quitting for good.
You will receive plenty of support, including help with making behavior changes to resist tobacco. With our program, you will have someone to cheer you on and help you stay committed to your goal. We will meet you where you are in your tobacco-free journey.
Most insurances help pay for tobacco cessation.
Tobacco cessation is available to anyone. One-on-one appointments are available in person or over the phone.
Call 503.325.4321, ext. 81102 to schedule an appointment.
Make an appointment with our pulmonologist
To schedule an appointment with the CMH-OHSU Health Pulmonology Clinic, please call 503.338.4516. You do not need a referral.