Pulmonary Rehabilitation
A chronic lung condition can make breathing difficult and keep you from living your best life. Fortunately, help is available.
Columbia Memorial Hospital's pulmonary rehabilitation program offers a combination of education and supervised exercise designed to help you:
Get stronger, breathe easier and resume activities that might have become difficult because of your lung condition.
Better understand how to manage your lung disease.
Learn breathing exercises and techniques that will improve your ability to carry out your daily tasks.
Stay as healthy as possible and reduce the risk of complications such as lung infections.
The program is available for people with lung conditions, such as chronic obstructive pulmonary disease (COPD), bronchiectasis, asthma, pulmonary fibrosis, lung surgery, and environmental or occupational lung disease.
What to expect in CMH's pulmonary rehabilitation program
During pulmonary rehab, you'll work with our highly trained team, which includes respiratory therapists and master's level exercise physiologists. Our medical director is a pulmonologist. Together we will tailor a pulmonary rehab plan that will help you meet your goals. For instance, some people want to take care of chores, dress themselves, walk their dog or play with their grandkids with less shortness of breath.
A typical pulmonary rehab program is made up of 36 sessions, which take place two to three times a week.
During these sessions you will learn how to:
Safely and comfortably increase your exercise tolerance.
Use the equipment and exercise at a pace that is right for you.
Lessen the shortness of breath that comes with activity through breathing exercises and techniques.
Properly use your medications.
Correctly maintain your home care oxygen therapy equipment.
Recognize, treat and resist respiratory infection and flare-ups.
Use relaxation and panic breathing techniques.
Improve your dietary choices to help promote nutrition and strength.
Conserve energy and improve work efficiency.
Develop more enjoyment from leisure time by reducing the obstacles you experience during outings and travel.
Because rehab is provided in a group setting, you may get to know other people who may share similar experiences living with a lung disease. Often, this creates a sense of comradery and mutual support.
Watch the video below to hear about a pulmonary rehab patient's recent experience.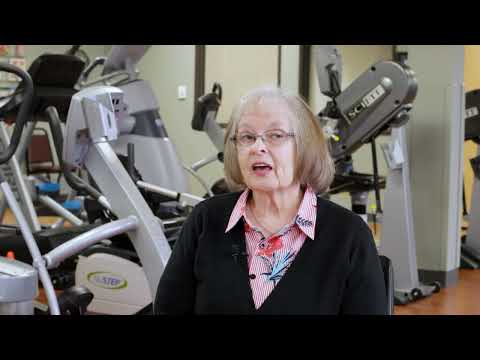 Ask for a referral to pulmonary rehab
You will need a referral from a physician to participate in pulmonary rehab. Ask your health care provider if you qualify for the program.
Once you have your referral, please call us at 503.338.4052 and we will work with you to schedule an appointment.
Many insurance plans pay for pulmonary rehab. Coverage does vary by health plan though. So you'll want to check with your insurance provider.